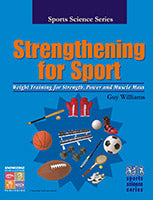 Strengthening for Sport
SKU / ISBN:
Author: Williams, Guy
Weight training is now regarded as an essential element in training for any competitive sporting activity and is also used by many as a convenient and enjoyable way to improve and maintain their overall fitness.
This guide looks at weight training as a means of strengthening specific muscle groups to improve performance and as a means of general sporting conditioning. Each exercise is fully illustrated and described for easy use by beginners.
Strengthening for Sport is a step-by-step guide to improving your sporting performance through understanding and planning your exercise techniques and examines the following:
muscle physiology
principals of weight training
psychology of weight training
nutrition
exercises
advanced training techniques
sport specific training programs
sample programs
machines
free weights
spotting and safety techniques
visualisation techniques
injuries
A comprehensive and easy to follow guide for anyone training for school or competitive sports or just generally interested in their fitness.
Format: Paperback
Series: Sports Science
Publication Date: 08/02/2006
Publisher: Knowledge Books and Software
Subject: Physical Education
Audience:

Secondary