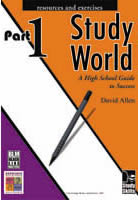 Study World
SKU / ISBN:
Author: Allen, David
This series is to help students understand how studying is a learnt process and the resultant academic outcome can be greatly improved by establishing a system.
Many students have trouble getting organised to fulfil their requirements. Study habits, once established, become the norm. This book aims to guide students through the study process to identify skills and develop a system of optimising their opportunity.
The book covers:
Study skills – subject specific study skills, guides and tips written by experts. These cover Health and Sport, Economics, English, Geography and Mathematics.
Universal study skills – tips, hints and stories that you can use for all high school subjects.
Goal setting and motivation.
High school graduates talk – four successful graduates give us study advice and hear their secrets to success at high school.
High school stress – the discussion of methods to cope with high school stress.
Essential study advice – a range of guides, advice and tips for successful study.
Exciting careers – professionals talk about their careers and their secrets to success.
Format: Paperback
Pages: 101
Publication Date: 4/11/2002
Publisher: Knowledge Books and Software
Subject: English
Audience:

Secondary