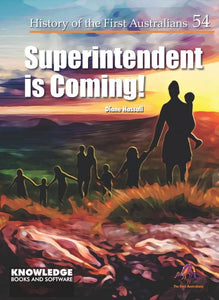 Superintendent is Coming!
SKU / ISBN:
Author: Hassall, Diane
Superintendent is Coming! is an incredible true story of the lengths an Aboriginal family went to ensure that their family stayed together during the time of The Stolen Generations. It explains the importance of family, their sheer resilience in the face of adversity, and their reliance on the land to ensure their survival and the maintenance of the traditional Yiman culture. Diane Hassall saw through these hard times the opportunity to grow spiritually, and to become a great and inspirational Elder.

Hello! I am Diane Hassall. Yiman Elder among many other things. My mother Marcia Hassall, White nee Hopkins, has played a major role in forging my future. Mum lived a life of holding us together, for our family, and for the Aboriginal people of the Central Highlands, and Central Queensland, and Australia. In searching for this better way of life; I have found that knowing who Jesus is also knowing who Our Father is! We are One Big Family!
Format: Paperback
Pages: 24
Series: History of the First Australians Set 3
Series Number: 54
Publication Date: 20/01/2020
Publisher: Knowledge Books and Software
Subject: Indigenous
Audience:

Primary

Reading Recovery:

Level 26

Curriculum:

Australian