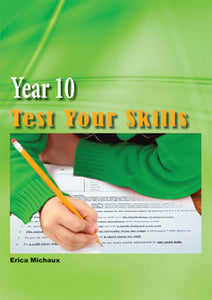 Test Your Skills Year 10 Student Book
SKU / ISBN:
Author: Michaux, Erica
A series of term units for Years 8, 9 and 10. Each lesson focuses on key literacy areas. These areas are spelling, language, grammar and reading comprehension. Questions are multiple choice and are based on the format favoured by the NAPLAN tests. Each unit also includes a reading exercise, which tests the students on three levels of understanding which become progressively more difficult: Reading on the lines (Literal), Reading between the lines (Interpretative) and Reading beyond the lines (Applied).
Also available:
A Teacher Guide provides the answers.
A PowerPoint presentation with the answers has also been provided for each year.
Format: Paperback
Pages: 36
Series: Test Your Skills
Publication Date: 1/02/2013
Publisher: Knowledge Books and Software
Subject: English
Audience:

Secondary

Reading Recovery:

Level No

Curriculum:

Australian