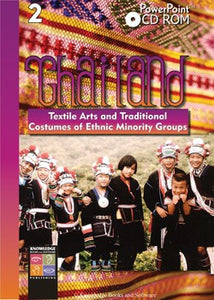 Thailand Culture and Textiles 2 (PowerPoint CD-ROM)
SKU / ISBN:

Textile Arts and Traditional Costumes of Ethnic Minority Groups
These PowerPoint and worksheet packages showcase the vibrant textiles of a number of the ethnic minorities living in Thailand today. They are effective teaching tools for Stage 6 teachers of Textiles and Design as they are designed to exactly address the outcome 6.1 Analyse the Influence of Historical, Cultural and Contemporary Developments on Textiles in relation to Thailand's culture. They also address outcomes 5.3.1 and 4.3.1 in the junior NSW Textile Technology syllabus. Worksheets to assist students meet course outcomes and teachers' answers to worksheets are included. The questions and answers included will allow students to consolidate their knowledge while the photos and text cater for range of learning styles.
Format: CD-ROM
Series: Thailand Culture and Textiles
Series Number: 2
Publication Date: 01/08/2012
Publisher: Knowledge Books and Software
Subject: Home Economics
Audience:

Secondary

Curriculum:

Australian