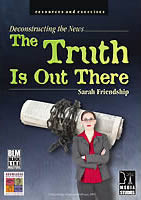 The Truth is Out There
SKU / ISBN:
Author: Friendship, Sarah
This invaluable resource reviews the media and examines 'what makes news'. Sarah Friendship works through a series of practical exercises to show how news is produced and the type of news resulting.
A selection of current news events is considered and treated in detail to consider the problems and solutions to these issues. These examples have been picked to engage student interest and provide insights relevant to an adolescent's context. All of the exercises have been designed to encourage student participation and critical thinking.
This teaching resource is designed to be used by any level of consumer and media classes as group activities, class discussion topics, individual research assignments and extension exercises. The chapters deal with issues critical to understanding the media which shapes our perception of the world around us.
Topics include:
News: What's The Real Story? – Introduction to Media Literacy
All Smoke and Mirrors – Developing Critical Awareness
Is the Truth Out There? – Ideology and the News Media
News is Not Black and White – Minorities and the News Media
Who Controls the News? – Objectivity, Ethics and the News Media
Talking Back – Active Participation in News Media
Format: Paperback
Publication Date: 9/01/2003
Publisher: Knowledge Books and Software
Subject: English
Audience:

Secondary