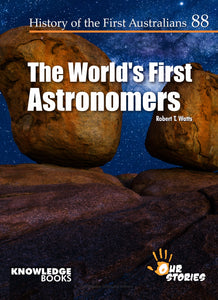 The World's First Astronomers
SKU / ISBN:
Author: Watts, Robert T.
First Nations people were keen observers of the night sky. They understood the cycle of day and night, the movement of the night sky and the annual cycle of the moon, the planets, and the stars. This story introduces the science of astronomy from both Indigenous and scientific perspectives.
Format: Paperback
Series: History of the First Australians Set 5
Series Number: 88
Publication Date: 01/05/2023
Publisher: Knowledge Books & Software
Subject: Indigenous
Audience:

Primary

Reading Recovery:

Level 16

Curriculum:

Australian