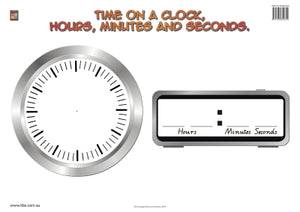 Time - Hours, Mins, Sec Wallchart (Grade 2)
SKU / ISBN:

This is the second version to cover Time requirements for Grade 2. It is extending with the inclusion of seconds on both the clock face for analogue and the digital has the inclusion of seconds.
This chart addresses the National Curriculum requirements in Maths in time for Grade 2.
Write/wipe - gloss finish allows the children to practise and remove for further attempts by others or as a refresher.
An invaluable resource for walls at home to practise and use in the classroom.
Wallchart measures approximately 45cm x 32cm.
Format: Wallchart
Publication Date: 15/12/2014
Publisher: Knowledge Books and Software
Subject: Wallcharts, Maths
Audience:

Primary