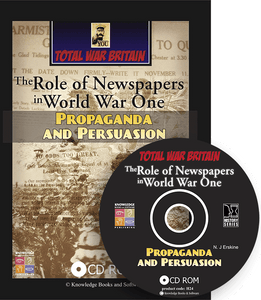 Total War Britain (CD-ROM)
SKU / ISBN:
Author: Erskine, N.J.
The Role of British Newspapers in World War One
This educational software helps you link immediately to important primary and secondary source documents. It is also able to be used in the classroom on your network for student usage via web browser. Your history students can either individually or collaboratively investigate the real experiences and attitudes of the respective periods in Modern History. You will have access to samples of entire newspapers from World War One, including News of the World, Daily News, Daily Mail, Daily Telegraph, New Statesman, Daily Express, Morning Post, Sunday Pictorial and The Times.
Graphical and textual material is easily accessible using the navigation buttons and hyperlinks to the actual sources. An exciting new Modern History resource that has an wide range of sources, both primary and secondary, that span eleven different newspapers over the course of World War One. This resource has been trialled, verified and tested for the classroom. Every source document will provide an insight into the areas that are covered in most Modern History curriculums.
Format: CD-ROM
Publication Date: 01/08/2011
Publisher: Knowledge Books and Software
Subject: History
Audience:

Secondary