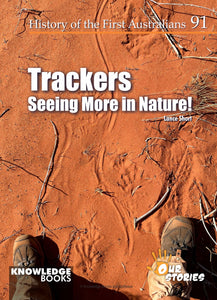 Trackers - Seeing More in Nature!
SKU / ISBN:
Author: Short, Lance
The First Peoples moved through forests, mountains, rivers, and large desert areas. The people did not get lost. How did they do this? How did they know where to go? This story outlines some of the ways that First Nations people were able to travel across their country. It also looks at how they used natural signs to hunt for their food.
Format: Paperback
Series: History of the First Australians Set 5
Series Number: 91
Publication Date: 01/05/2023
Publisher: Knowledge Books & Software
Subject: Indigenous
Audience:

Primary

Reading Recovery:

Level 19

Curriculum:

Australian