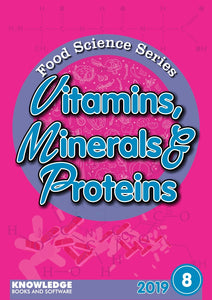 Vitamins, Minerals & Proteins
SKU / ISBN:

Food is a chemically complex mixture of substances that contains nutrients. Foods such as dairy foods, meat, nuts, legumes and grains contain a mixture of proteins, fats minerals and vitamins. Food processing, food storage, food packaging can affect the nutritive value and sensory properties of the food we eat. In this book there are experiments and tools included that will assist you to better know what are the chemical constituents of the food we eat. Looking at the food science and nutritional value of food we can understand the effects of different food processing techniques on the food we eat. In each kitchen the cook is deciding the best way to cook a meal. Is the cook influenced by taste, appetite, seasonal availability of fresh produce, the appearance, the cost of the meal or the nutritional quality of the food?
How does the processing of food alter the bio-availability of vitamins, proteins and mineral content of food?
As an extra bonus each unit comes with activities that explore problem based learning. Included are multiple choice questions, short answer questions to assess the objectives and subject matter.
Format: Paperback
Pages: 50
Series: Food Science Series
Publication Date: 01/09/2018
Publisher: Knowledge Books and Software
Subject: Home Economics
Audience:

Secondary