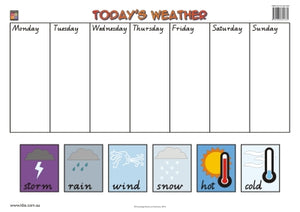 Weather and Days of the Week Wallchart (Prep)
SKU / ISBN:

Weather is introduced as a log of observations and not just content. This is then taught to the children so they are familiar with simple scientific observations.
This chart addresses the National Curriculum requirements in Science - Climate for Foundation/Kindergarten/Prep year. The second element for Maths is day and weeks which are introduced as part of the component on time.
This is an essential component for Science for Weather/Climate and also recording and logging observations. This chart can be used for several years based on the child obtaining variable observations for climate and weather over a set period of time.
Write/wipe - gloss finish allows the children to practise and remove for further attempts by others or as a refresher.
An invaluable resource for walls at home to practise and use in the classroom.
Wallchart measures approximately 45cm x 32cm.
Format: Wallchart
Publication Date: 15/12/2014
Publisher: Knowledge Books and Software
Subject: Wallcharts, SOSE
Audience:

Primary