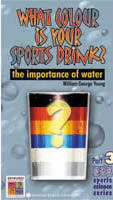 What Colour is Your Sports Drink? (DVD)
SKU / ISBN:
Author: Young, William G.
Essential viewing for any sports coaches, teachers, students and sports people who are interested in their general well-being whilst playing sport. Presented by Associate Professor William George Young, considers the type of formulated sports drinks available commercially. What Colour is Your Sports Drink? is divided into the following sections: 
About water
Sugars and carbohydrate drinks
Acid drinks and gels
Acid sports drinks and teeth
Minerals and caffeine in sports drinks
Sports drinks and the WATCH strategy
The video uses clinical examples, models, animations and interviews to outline the requirements of good fluid management and the understanding that some sports drinks may damage the teeth during physical exertion. 20 minutes.
Format: DVD
Publisher: Knowledge Books and Software
Subject: Home Economics
Audience:

Secondary