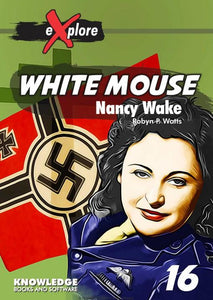 White Mouse
SKU / ISBN:
Author: Watts, Robyn P.
Follow the incredible true story of Nancy Wake, who joined the French Resistance to fight against the Germans during World War 2. Nancy regularly risked her life to smuggle food and communications through and ensure the safe escape of the Allied soliders. Despite being on the Gestapo's most wanted list, the Germans never managed to capture her and she continued her mission right up to the end of the war.
Nancy Wake's role in the French Resistance is inspiring to all Australians. She was incredibly brave, fearless and clever in avoiding capture by the Gestapo. Her contribution and bravery is a role model for young women and for all fair-minded people.
Format: Paperback
Pages: 44
Series: eXplore Chapter Books
Series Number: 16
Publication Date: 1/07/2020
Publisher: Knowledge Books and Software
Subject: Learning Support, Literacy
Audience:

Primary, Secondary

Reading Recovery:

Level 27

Curriculum:

Australian